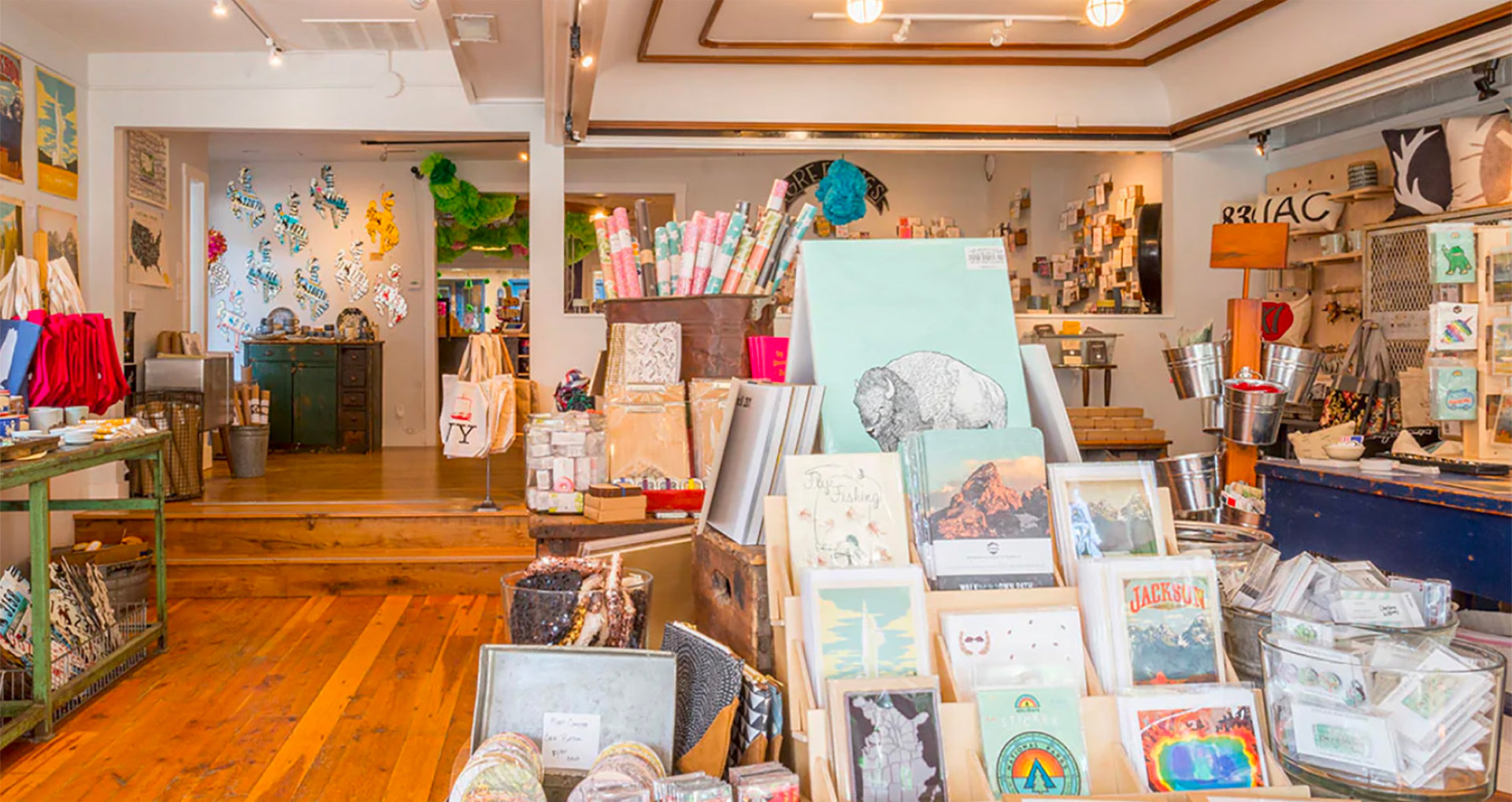 ABOUT OUR SHOPS
A collection of locally owned and operated shops in Jackson Hole, Wyoming.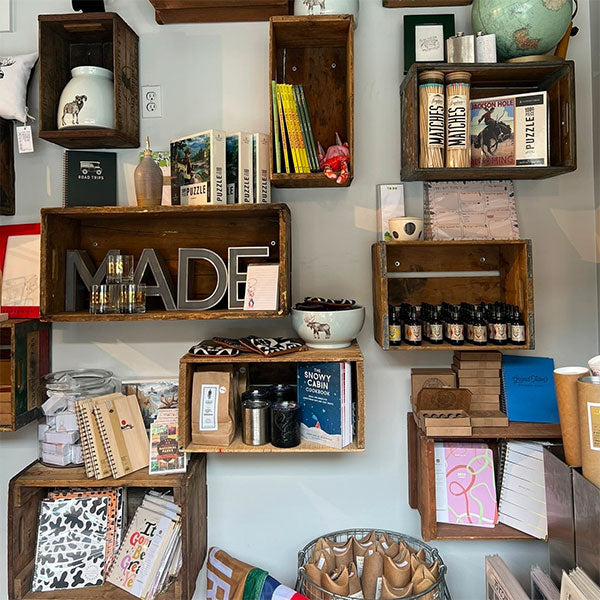 Gaslight Alley, 125 North Cache, Jackson, Wyoming
MADE
MADE is a small and unique shop that has quickly become a hotspot for Jackson Hole locals and visitors. With handmade items from more than 360 American artists, shoppers can be sure that quality and care have been put into every item–from jewelry and pottery to leather goods and glassware. Shop Founder and Owner John Frechette opened MADE in 2010 to sell his handmade fused glass belt buckles. MADE quickly grew to become a home for the work of artisans from across the country. 
10-6 Sun / 9-6 Mon-Thurs / 10-8 Fri-Sat
307.690.7957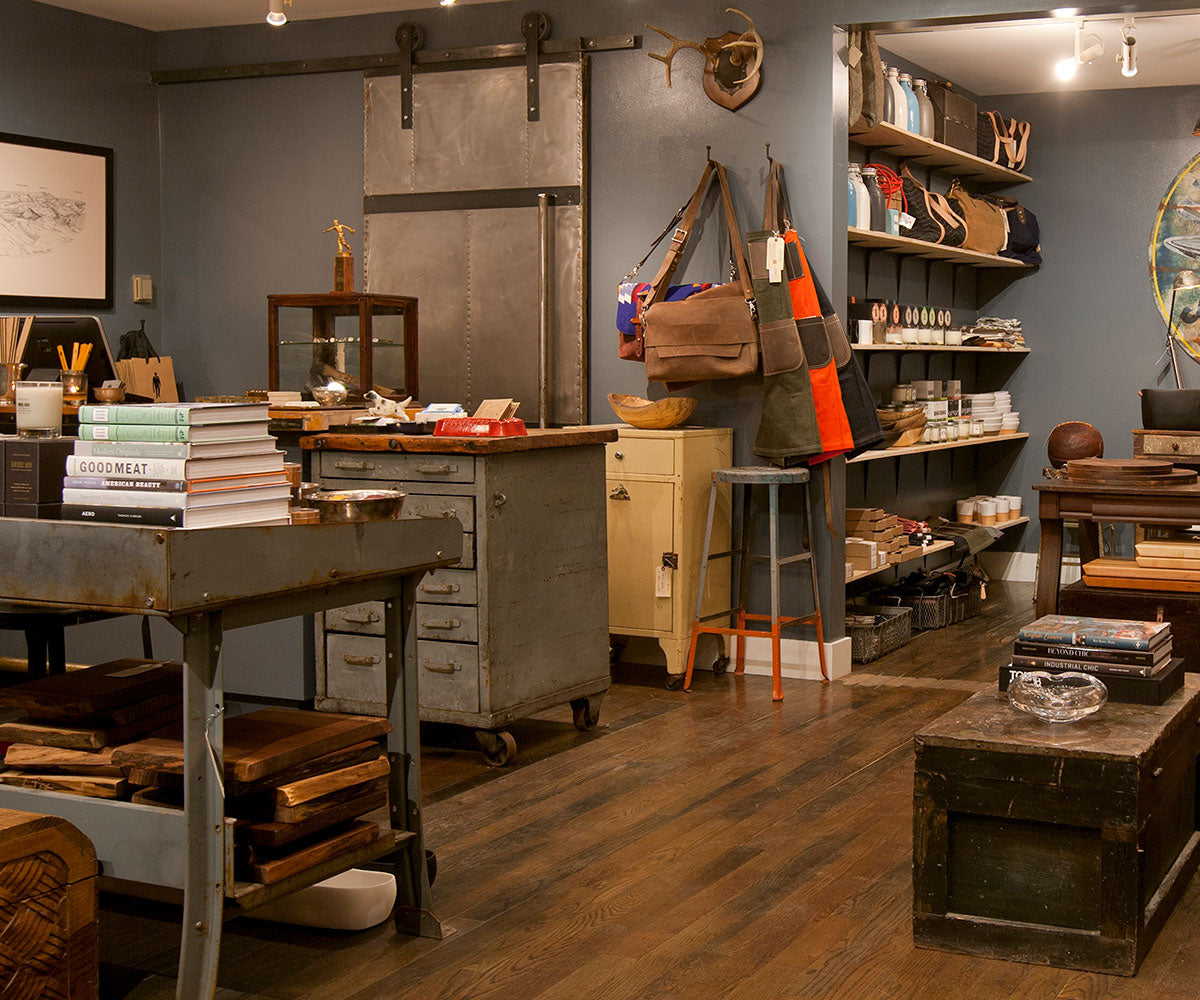 265 West Pearl Ave, Jackson, Wyoming
Mountain Dandy
Mountain Dandy is the stylish brother store to MADE. Consistent with the MADE family vision, Mountain Dandy carries handmade items for the home, but with a collegiate and men's club atmosphere. Wooden bowls, blankets, dishware, and canvas and leather aprons are alongside hand-curated vintage furniture cultivated from cross-country road trips. Leather club chairs, men's candles, industrial desks, and cashmere pillows leave nothing left out except a gin and tonic.

10-6 Tues-Sat
307.690.2896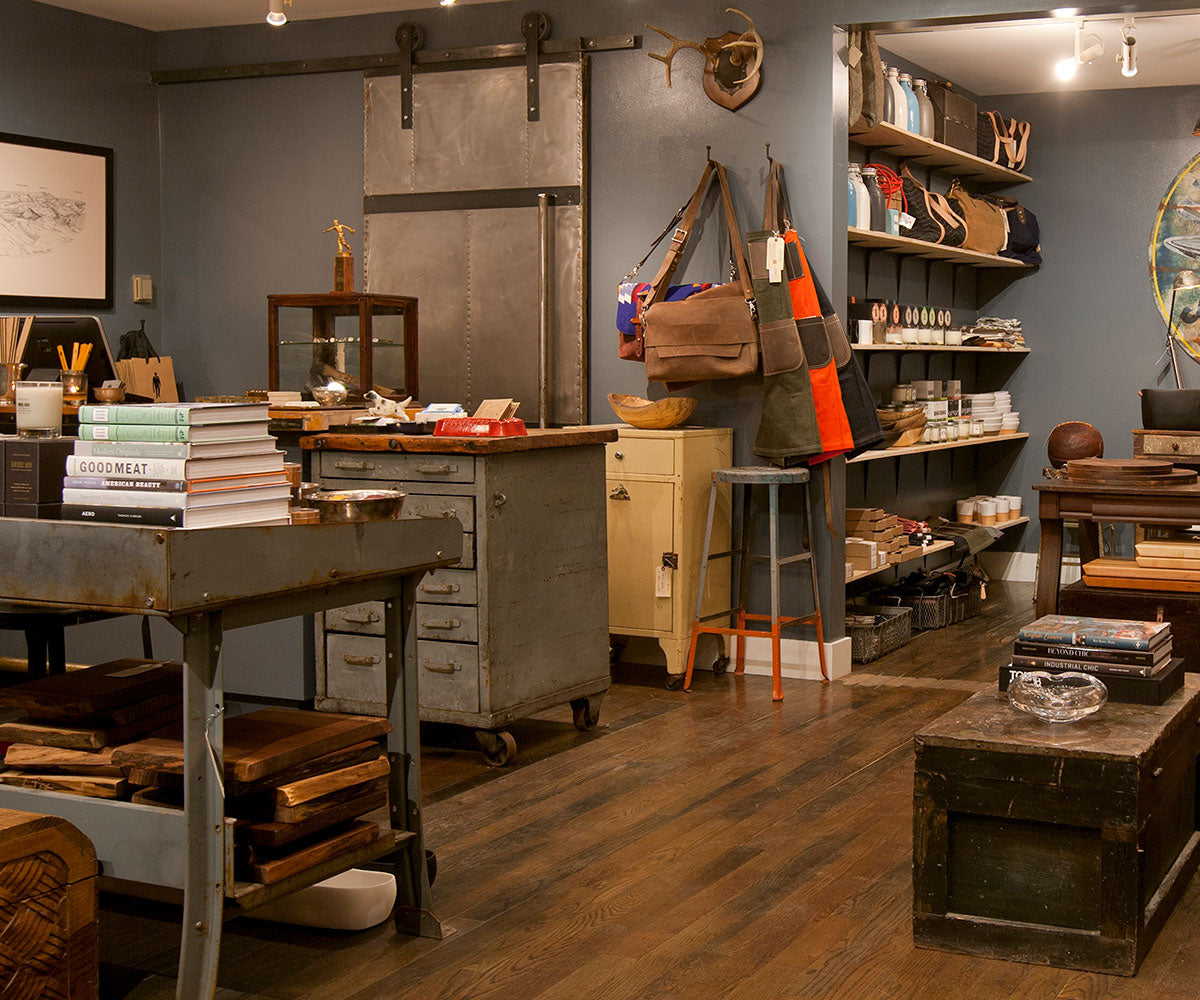 Westbank Center, 3445 N Pines Way Suite 105, Wilson, Wyoming
M by MADE
M is a beautifully curated shop with something for everyone. We carry candles, jewelry, and cards along side amazing pottery, blankets and leather goods. We also carry a selection of Mursell's Sweet Shop treats!
9-5 Monday-Saturday / 9-3 Sunday
307.690.0606
Gaslight Alley, 125 North Cache, Jackson, Wyoming
Mursell's Sweet Shop
Mursell's Sweet Shop is named after Mursell McLaughlin the original owner of Mursell's Chocolate and Pottery. She opened her shop in Gaslight Alley 36 years ago as a founding member of Gaslight Alley. As our landlord when we first opened MADE, and through our second expansion she became a great friend. When Mursell was ready to move on from owning her shop she was having trouble finding the right fit. We asked her if she wanted us to keep it a candy shop and she said "I thought you'd never ask". Now called Mursell's Sweet Shop we bring in items from all over the world, as well as lots of classics.
Join Our Team
Come join our team!

We are currently looking to fill positions at MADE & Mursell's Sweet Shop 

A favorite of locals and tourists alike since 2010, we've continued to grow and are searching for outgoing, energetic individuals who share a passion for Jackson and small businesses! 

We pride ourselves on thriving in a fast paced environment while keeping the shopping experience fun and exciting. We support the work of hundreds of makers, and interact daily with visitors from around the world.

SEEKING
MADE
-year round warehouse manager
Want to run our warehouse, have flexibility and autonomy?
3-5 weekdays per week, with some flexibility.  Shipping and logistics for outgoing orders, and management of store supply restock and website inventory.  Everyday will be a little different, with the ability to focus on some of your favorites.
 MURSELL'S SWEET SHOP
-night packers
Have a Sweet tooth? Candy is selling fast and we need your help keeping up with packaging!  Opportunities exist for night or day work.  No real customer facing interactions, work behind the scenes to help make Mursell's extra sweet.
Looking for part time & seasonal work?
We are always on the lookout for the right people, so reach out!

RESPONSIBILITIES WILL INCLUDE
greeting and assisting customers 
helping customers fall in love with Jackson Hole
answering questions about the shop and merchandise
tidying throughout the day
recommending merchandise based on customer needs
Prior retail experience is a plus, but not required. 
Many scheduling options available including weekdays, and weekends, but most are full day 10-6.
Shoot us an email, we would love to hear from you! 
(Check us out on Instagram @madejacksonhole @mountaindandy @mursellssweetshop )